Ayşe Saray
(29.07. - 07.08. 2011)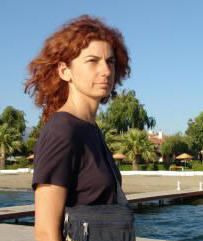 Ayşe Saray was born in Ankara in the year 1964.
She already got acquainted to visual arts during her childhood in the studio of Eşref Üren and Osman Zeki Oral at the State Fine Arts Gallery. Later she studied design and watercolour with various esteemed professors and participated in atelier groups.
Besides her profession as a radiologist, she enriched her photographic experiences at AFSAD and FSK. Complementary she also studied sculpture and participated in various group exhibitions in Turkey and other countries.

Art Formation/Workshops:

Eşref Üren, Osman Zeki Oral (oil pastel, design)
Bünyamin Balamir, Ercan Gülen (design, ink)
Asım Yücesoy, Orhan Güler, Saadet Gözde (watercolour)
Emel Seyrantepe (design, ink, watercolour)
Yurdanur Özdinç (abstract, oil, mixed)
Gülseren Sönmez (mixed)
Filinta Önal, Turgut Tuna (sculpture, tile painting)
AFSAD, FSK, Tacettin Teymur Photografic Workshop (photography)
AFSAD: Cenap Saryal: Sun Print Techniques (photography)
ZİÇEV (Photography training of mentally handicapped children)
Memberships:
AKRD - Ankara Women Painters Association
AFSAD - Ankara Photography Artists Association
TSFM – Virtual Photography Museum of Turkey
Maltepe Artists Village

Personal Exhibitions:
"Dreamy Truths" Abstract Photography Exhibition
Since 2005
Ankara: ÇSM, AÜTF, Çinçin Bağları Atatürk Technical Gymnasium and Industrial Vocational Gymnasium,
Istanbul: İFSAK, European Community Office Women's Week Activities,
Adana, Antalya, Ayvalık, Gökova,
DOKUFEST – Prizren, Kosova.
"Dreamy Truths" Abstract Photography Exhibition
Since 2009 Ankara: ÇSM,
Istanbul: 22. İFSAK Photograph Days, Taksim Cumhuriyet Art Gallery
Cat Palabiyik Minnos Oil Paintings Exhibition:
3-4-2008 İlhan Culture House, Ankara
11-2008 Artura Art Gallery, Ankara
Artforum Ankara 4. Sanat Fair
Group Painting, Photography and Sculpture Exhibitions
Since 2004 Group exhibitions, AWPA
2006 14th March National Medicine Day, Turkish Chamber of Medicine, Ankara
2006 Tacettin Teymur: "That comes with the light", "and Woman", Ankara
2007 " For Women by Women" Group Photography Exhibition, Ankara, Bursa
2007 AFSAD Workshop Exhibition, Ankara
2008-2009 AFSAD Abstract Workshop Group Exhibitions: "Spirit":: Turkey, Vienna- Austria,
Munich – Germany
2007-2008 "H'ic": Turkey, Salzburg- Austria)
AFSAD Sun Print Techniques Workshop, Ankara, Bursa
Since 2009 Maltepe Artists Village Exhibitions