Yıldız Dinçer 13.06.- 22.06. 2014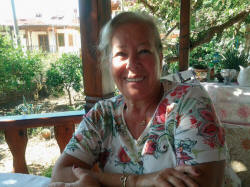 Yıldız was born in İstanbul, Kadıköy.
Upon completion of secondary education, she married and settled with her husband in Zurich in Switzerland.
Along with her husband and two daughters, she lived
for 26 years in Switzerland. During this time she worked in a bank in Zürich. Longing for her homeland, in 1989 she returned with her family back to Turkey. They settled in İstanbul.
As a hobby, she attended courses in woodworking,
painting and fabric dyeing. Then she followed the advice of her teachers and began to paint in the studio
Topaloğlu Cahide. Here she learned pen, watercolour and oil painting techniques. She began her studies in oil paintings. In 2001, she participated in an exhibition of the workshop of Cahide Topaloğlu. After that she lived in her house in Akyaka and continued her work in the
studio of Nur Önen Erdogan.
Between 2004-2007 she had, along with her husband, exhibitions in Akyaka's Nail Çakırhan - Halet Çambel House of Culture & Art. In December 2013, she participated in a group exhibition at Beyoğlu. In February 2014 she took part in the exhibition of Cahide Topaloğlu's workshop in Sisli (Municipal Cultural Centre). She loves Akyaka and its nature. Her paintings focus on landscapes and still life, today she works in İstanbul and Akyaka.