Necib Özden Uz 22.08.- 31.08. 2014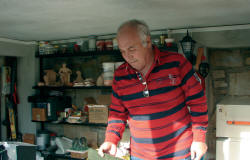 I was born in 1949 in Beysehir. After completion of the Darüşafaka school, I graduated in Geology in İstanbul. I was employed there for many years in the production of chemicals.
In 2000 I retired and moved to Akyaka.
In the "Cam Ocağı " Foundation, I attended weekend
classes and began to produce forms of glass and study
this technique. To prepare the moulds for the production of models, which are made from clay, I had to learn ceramics, too.
With Erdoğan Nur, who conducted workshops in Akyaka, I have learned pottery and spent very fruitful time in these events. I opened a workshop in Akyaka and there, with friends and acquaintances, I studied the various techniques of painting, ceramics, glass melting and deformation as well as fabric printing techniques for 3 years. Currently, in my home studio, I am continuing my work with glass and ceramic.
For five thousand years the processing of glass, it'stransparency, reflection and refraction of light has been well-known and always an fascinating technique.
Glass, as a material, surprises from time to time with delightful results. In addition to transparency, the main property of the glass, there is the additional challenge to design forms with this nearly invisible material. Maybe that is what makes working with glass so attractive.
2013, guided by Teoman Ata, I had a first exhibition of my work together with the 'Group Gökova', in the Nail Çakırhan and Halet Çambel House Culture and Art.